Kate Pousont Scarborough, Director
---
Kate Pousont Scarborough, E-RYT 500 and Director of Shelburne Falls Yoga, offers a unique combination of Kripalu Yoga with a wide range of somatic, yoga, and movement techniques designed to help students access their fullest potential and to create an environment for growth and rejuvenation. Kate's classes are well-loved by experienced and new yoga students of all ages and include gentle movements to encourage a depth of embodiment, detailed alignment objectives to safely develop strength and mobility, and ample time for relaxation and integration. An avid practitioner in body, breath, mind, and lifestyle, Kate is dedicated to guiding students of all ages and levels of ability into ongoing vibrancy and wellness through an exploration of the many facets of the yoga tradition.

Kate has been teaching groups and individuals in movement and somatic practices for over fifteen years. Her studies inevitably lead her to yoga and Kate received her training as a certified Kripalu yoga instructor in 2009. She has since completed her Professional Level Certification at Kripalu Center and has returned to assist and facilitate the 200 and 500 hour teacher training programs at Kripalu. Kate received an Essential Certification as Thai Yoga Bodywork practitioner with the Lotus Palm School based in Montreal and is currently completing an Embodied Anatomy and Kinesiology intensive with renowned yoga anatomy instructor Any Matthews.

Kate is also a certified Yoga Ed. instructor for pre-school through grade 8, has received a B.A. in dance from the University of Massachusetts at Amherst, and spent several years performing with small dance companies throughout New England. She taught ballet at Valley Dance Project and at Pioneer Valley Performing Arts High School in South Hadley, MA and has created a curriculum combining elements of ballet, yoga, and modern dance emphasizing anatomically sound technique and the joy of movement, which is offered to students here at Shelburne Falls Yoga.

To learn more about classes, bodywork sessions, or individual instruction, or to schedule a group or one-one session, please contact Kate at shelburnefallsyoga@gmail.com or 413.475.2441
Melissa Stevens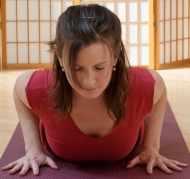 Melissa Stevens, M.Ed., R.Y.T. 500 has been practicing yoga since 1999 and teaching since 2006. Her training has been multi-disciplinary, leading her to explore various traditions over the years, including Ashtanga, Iyengar, Kundalini, Kripalu, Bikram, Anusara, Jivamukti and Viniyoga. Since 2008 Melissa has been immersed in the deeply healing and integrative approach of Embodyoga®, a style pioneered by Patty Townshend of Yoga Center Amherst. Melissa's intention is to share the depth and expansiveness of these teachings both deliberately and spaciously, creating a fun and safe space for each student to get to know him/herself a little better. When she's not teaching yoga, Melissa is likely to be found making a mess in the kitchen or getting dirty with her three-legged hound dog, Emmanuel.
Jillian Soucie
Jillian Soucie, RYT 200, was born and raised in Massachusetts leaving only to pursue her B.S degree where she then came home to beautiful Western Massachusetts where she completed the Embodyoga® teacher training under Corinne Andrews and Patty Townsend. She was first introduced to yoga as a young gymnast but it wasn't until college she found herself incorporating yoga and breathing techniques into her daily life. The more frequently she attended classes the more passionate she became about bringing joy to everyone she met. She is Yoga Alliance registered and is excited to continue to learn, teach and share yoga with her students. She truly believes yoga is for every BODY and holds a sacred space for every student to grow, practice and learn together.




Daniel Rainwater



Daniel has dedicated his life to the study of personal development and pain free movement. His teaching is informed from two and half years of living and studying at Kripalu Center for Yoga and Health in Lenox, Massachusetts. Pulling from a vast array of modalities and lineages, he embodies his unique approach with a light heart and a warm smile. His classes are varied and applicable to each class member, as well as seasonal and supportive to a climate of change, growth, and new ideas.


Molly Fletcher Lynch-Seaver
Molly received her 200-hour RYTT at Yoga effects in NYC in 2009. Since then she has taught in both New York and San Francisco, as well as throughout Europe. Molly also holds an MA in Contemporary Dance from The London Contemporary Dance School. She has been on faculties at The College of San Mateo and Sonoma State University teaching dance, yoga, pilates and movement composition. She works from an anatomical approach allowing for safe movement that can allow one to live in a more aligned and physically aware body.




Steven Howland
Steven Howland is a certified instructor with the Tai Chi for Health Institute. He has used Tai Chi and Qi Gong as mindfulness training and gentle exercise for several years and is delighted to be able to share the benefits of this ancient practice with his students. He has studied Tai Chi for Health with Dr Paul Lam, Deborah Yaffee, Julie Oberhaus and Yang Style Tai Chi Chuan with Mark Deavers.






Collin Ricketts


Collin Ricketts, has taught qigong in New England for over twenty years. In addition to studying with numerous Chinese qigong teachers, he is a student of western depth psychology, contemplative christianity and tantric yoga. He also guides people in realizing a deeper sense of self through group work called Journey to the Ordinary. He divides his time between western MA and southern Colorado.