SHELBURNE FALLS YOGA
IS AN INDEPENDENTLY
OWNED AND OPERATED
KRIPALU AFFILIATED STUDIO
Kate Pousont Scarborough, Director
---
Kate Pousont Scarborough, E-RYT 500 and Director of Shelburne Falls Yoga, offers a unique blend of classic Kripalu Yoga and range of somatic techniques designed to bring students to their fullest potential in mind and body and create an environment for growth and rejuvenation. Kate's classes are well-loved by experienced and new yoga students of all ages and include gentle movements to encourage a depth of embodiment, detailed alignment objectives to heighten and attune to sensation, and ample time for relaxation and integration.
Kate has been teaching groups and individuals in movement and somatic practices for over fifteen years. Her studies inevitably lead her to yoga and Kate received her training as a certified Kripalu yoga instructor in 2009. She has since completed her Professional Level 500 hour Certification at Kripalu Center and has returned to assist and facilitate the 200 and 500 hour teacher training programs at Kripalu. An avid practitioner in body, breath, and mind, Kate is dedicated to helping students of all ages and levels of ability reach their full potential through an exploration of the many facets of the yoga tradition.
Kate is a certified Yoga Ed. instructor for pre-school through grade 8 and received a grant from the Kripalu Yoga Teachers Association to bring yoga to public school students in Massachusetts. She is currently working with both students and teachers in local school districts. Kate also received a B.A. in dance from the University of Massachusetts at Amherst and spent several years performing with small dance companies throughout New York and New England. She taught ballet at Valley Dance Project and at Pioneer Valley Performing Arts High School in South Hadley, MA. Kate continues to perform and teach as a guest artist and has created a curriculum combining elements of ballet, yoga, and modern dance emphasizing anatomically sound technique and the joy of movement, which is offered to children here at Shelburne Falls Yoga.
George Nager
George Nager has studied and practiced yoga healing arts for 20 years. He is the builder and co-founder of Prakasa Yoga Studio in Goshen,Ma. George is a Reiki Master, and also has received numerous attunements from the Temple Academies system of healing energies. Additionally, George studies and teaches the Miracle of the Breath breathwork technique. George lives in Goshen, with his wife, Lynne.
Sara Coblyn
Sara rediscovered yoga after experiencing a significant life transition. She found that yoga and meditation provided a space where she could reconnect to her own inner strength and balance. She seeks to share the power of this practice with her students. Sara is a certified RYT - 200 and a 2012 graduate of Mama Nirvana's New Yoga teacher training. With a calm demeanor and a sense of humor, Sara creates a peaceful and enjoyable atmosphere in her teaching experiences. Her classes are a mix of challenging posture flow, strengthening asana and restful, restorative poses. Sara is also a gardener and educator with over 15 years of experience. She combines her love of gardens and yoga in family and children programs through her business, Sweet Roots Gardens. She especially loves doing yoga with her preschooler who always has a thing or two teach her.
Blake Macko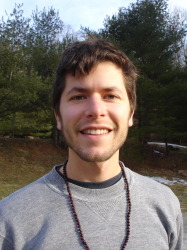 Blake has been practicing hatha yoga for eleven years and received his 200-hr teaching certification from Kripalu School of Yoga in November 2013. As a teacher he strives to skillfully embody and apply the tools and techniques of yoga to encourage students to explore their own indwelling power with playfulness, curiosity and wonder. He incorporates the Kripalu teaching methodology of creating a safe and supportive environment, empowering students to be in conversation with their bodies throughout practice, using BRFWA (Breathe, Relax, Feel, Watch, Allow) to continually re-enter the present moment, and exploring the five koshas, or sheaths, of human being. His goal is to kick-start a process of self-exploration in each individual student, to help them develop a personal relationship with practice, and support them throughout their unique journey of transformation.
Norm Christiansen
Norm has studied and worked as a healer, personal trainer, holistic nutritionist and life coach. The integration and synthesis of these experiences are woven into his daily practice of life. He is a RYT 200hr Kripalu trained Yoga teacher teaching and training at several Yoga Studios, Athletic Clubs and privately in CT and throughout the Pioneer Valley. His interest in offering his experience covers a wide population that includes elementary school children, adolescents, adults of all ages and a group of folks he affectionately refers to as "Ageless Wonders" ...saints of wisdom." He has a Level 1 Certification in Mindful Yoga for Veterans, a population that he has served for many years. Norm believes that the complex human matrix has a spiritual core at it's center. Health and wellbeing must also be nurtured from within.
Norm received his doctoral degree from the University of Massachusetts in Psychological Education. He taught at Colleges and Universities in the Commonwealth and directed programs and counseled youth and families with unique capabilities that had been overlooked by a system that frequently was unsuitable for recognizing and nurturing those capabilities.
He enriched the notion that helping others required a flexible approach attentive to their specific strengths. This focus brought him to becoming certified in Sports Psychology. His work with professional elite athletes and Olympic athletes has been focused on individual Optimal Performance and enjoyment of exercise and sport. This approach continues to direct his training and teaching in all areas. He ran marathons and participated in triathlons. He is an avid hiker and bicyclist and helps to train runners and bicyclists with specific exercise routines and yoga to reduce the chance of injuring themselves. He likes to include anatomical explanations when relevant. He is soft spoken with a tongue-in-cheek sense of humor inviting a smile or similar in-kind response from his students. He strives to help students learn to enjoy healthy physical activities...have fun!
Pam Roberts
Pam Roberts, a longtime student of Shelburne Falls Yoga, headed to Kripalu a number of years ago to become a Kripalu Yoga teacher and a certified Yoga of the Heart for Cardiac and Cancer Patients instructor. Pam appreciates how yoga helps her to stay centered and healthy and welcomes any opportunity to share the healing benefits of yoga with others. A breast cancer survivor, she also leads yoga classes and programs for people affected by cancer throughout New England. An ordained energy healer, she is currently continuing her yoga studies in Kripalu's 500 hour teacher training program.
Diane Hicks
Diane completed her training as a Kundalini yoga instructor in the spring of 2009. She had practiced Hatha yoga on and off over the years, but fell in love with Kundalini from her very first class. Something about it felt so familiar, almost like coming home. Diane's teachers, Mehtab Benton, Guru Karam, and Siri Bahadur Khalsa all studied with Yogi Bhajan, himself. Diane was also able to study with Gurucharan Singh Khalsa, the director of the Kundalini Reasearch Institute and leader of Kundalini yoga in the west. Along with her teacher training, Diane received training in Breathwalking, which combines aspects of Kundalini with walking meditation. Two years ago, she took on advanced Kundalini study in the area of lifestyles and lifecycles, after which she began working with individuals looking to shift stuck patterns and reshape their lives. Outside of Kundalini, Diane enjoys Yin yoga, which focuses on lengthening the connective tissues and quieting the mind. Diane loves the outdoors, skiing, kayaking, swimming, hiking, and practicing asana under the sun. She recently returned to the area from Austin, TX, and now lives in Conway with her husband and two children.
Collin Ricketts
Collin Ricketts, a student of Yoga, Zen and Qigong for 40 years, has taught Qigong in the Pioneer Valley, California and throughout New England. He has studied with numerous Chinese Qigong Masters and was a close student of Dr. Bingkun Hu and Zen Master Cobun Chino. His teaching style is relaxed and warm, creating a supportive community in each class. He lives in Heath where he gardens, raises chickens, and build rustic furniture.