SHELBURNE FALLS YOGA
IS AN INDEPENDENTLY
OWNED AND OPERATED
KRIPALU AFFILIATED STUDIO
Plato called music "a science of love relating to harmony and rhythm". Yoga is an ancient science, deeply rooted in the practice of compassion, with the intention of creating harmony within us and between us by aligning the rhythms and vibrations of the body. In combination, these two practices have the power to affect great change and create deep joy. They also have the power to align our systems with the greater rhythms that sustain us and bring us into harmony with the natural world.
Our next EARTHjourneys workshop
is coming soon!
EARTHjourneys is the result of an ongoing artistic collaboration between musician and filmmaker Loren Feinstein and Kripalu Yoga instructor and Shelburne Falls Yoga Director Kate Pousont Scarborough. In this two-hour workshop you will be lead through a balancing, grounding, and deeply energizing yoga flow accompanied by original compositions performed on a wide-range of instruments.
Kate and Loren have translated the wisdom of yoga, other ancient traditions, and a love of the natural world into an experience of sound and motion designed to bring you into greater contact with the elemental qualities of grounding, creativity, transformation, compassion, and connection. Our first workshop EARTH is particularly focused on the qualities of Earth energy toward a feeling of grounding, belonging, and a sense of place.
"Kate and Loren engage the senses masterfully in EARTHjourneys. They weave a brilliant tapestry of sound, movement and imaging such that the mind surrenders, the guides are forgotten and the journey is distilled down to only this: this breath... this movement... this stillness... this peace... this beauty... One leaves feeling connected, complete and grateful for the gifts of this world." -D. F., Past Participant
$26. Reserve your place now!
Email shelburnefallsyoga@gmail.com to schedule an event in your location.
CD Release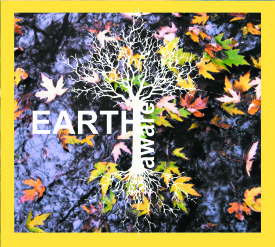 EARTHjourneys is pleased to announce the release of its first CD. Drawing from a number of past projects, including our workshop series, Loren and Kate have produced EARTHaware featuring Loren Feinstein's original compositions performed on a range of instruments.
EARTHaware is ideal for casual listening and was also designed to complement a yoga practice or class. Through sounds ranging from calming to stirring, the music invites the listener into a grounded space and encourages a sense of connection to the natural world. EARTHaware CD's and T-shirts are available for purchase at Shelburne Falls Yoga and on our website